Explore Kyrgyzstan to Turkmenistan
Booking Dates
06/09/2023 through 10/02/2024
Travel Dates
06/09/2023 through 10/30/2024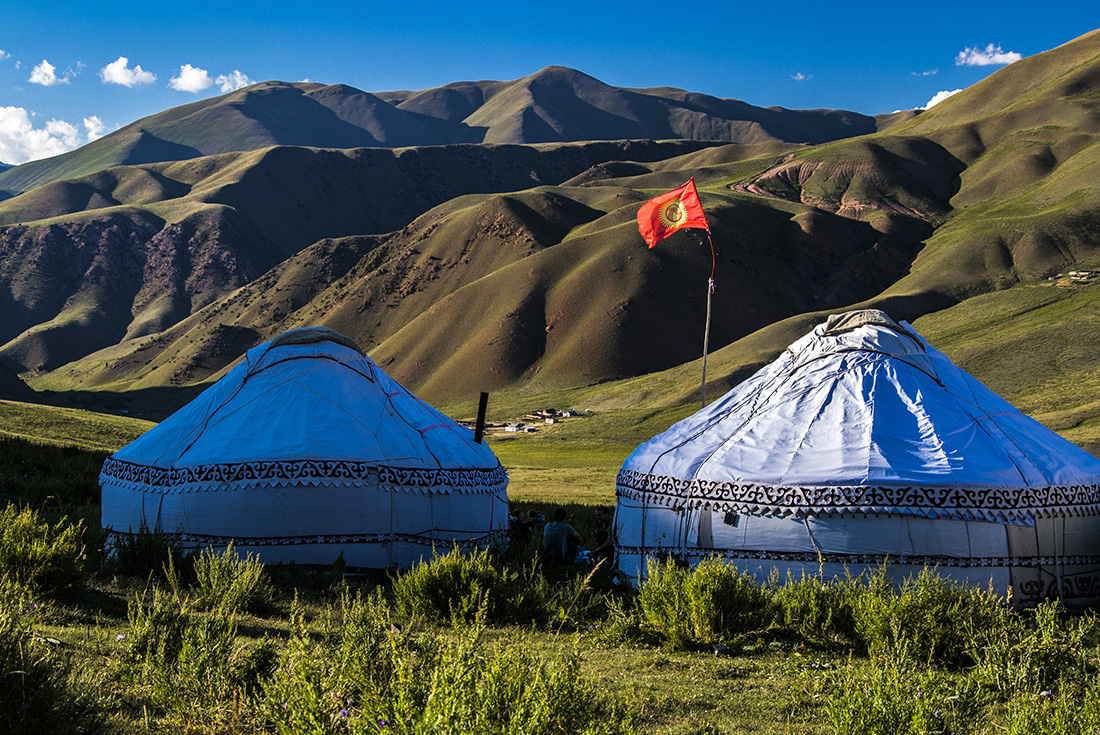 Explore Kyrgyzstan to Turkmenistan

Get to know – or under-Stan, if you will – the desert landscapes, multicultural influences and religious significance in Kyrgyzstan, Tajikistan, Uzbekistan and Turkmenistan on a 26-day Central Asian adventure. The region's allure lies in the heritage of the Silk Road, where ideas, culture and people flowed from East to West, and in the green field backcountry and sweeping mountain landscapes that play host to the traditional nomadic lifestyle. Journey through cities featuring crumbling reminders of Soviet occupation and influence and out into the stunning wilds, where the ancient history of these long-lived nations – Persian and Mongol, Buddhist and Muslim – becomes clearer. Samarkand's iconic Registan Square, the soaring Ak-Baital Pass, Khiva's city within a city, the 'Door to Hell' – Central Asia has got it all.
Important Notice: The border between Kyrgyzstan and Tajikistan is not open at the moment. We will review the status of trip operation across Kyrgyz-Tajik border about 3 months before departure and inform our customers accordingly.

Activities
Osh – Suleiman's Mountain
Osh – Bazaar
Tajikistan – Karakul Lake
Langar – Petroglyphs
Vrang – Buddist Stupa
Ptup – Yamchun Fort
Khorog – Regional Museum
Khorog – Pamir Botanical Gardens
Khorog – Bazaar
Dushanbe – City Tour
Dushanbe – Hissor Fort
Dushanbe – National Museum of Antiquities of Tajikistan
Samarkand – Shakh-I-Zinda
Samarkand – Registan
Samarkand – Gur-e-Amir Mausoleum
Samarkand – Bibi-Khanym Mosque
Samarkand – Paper making workshop & home cooked lunch
Khiva – Pahlavon Mahmud Mausoleum
Khiva – Kuhna Ark
Khiva – Islom Hoja Minaret & Medressa
Khiva – Juma Mosque
Khiva – Tosh-Hovli Palace
Darvaza – "Door to Hell" Crater
Konye-Urgench – City tour
Yerbent – Village visit
Ashgabat – National Museum of Turkmenistan
Ashgabat – Nisa ruins
Ashgabat – Anau ruins
Ashgabat – Independence Monument
Ashgabat – Neutrality Arch
Ashgabat – Turkmenbashy Ruhi Mosque & Family Mausoleum of the First President of Turkmenistan
Ashgabat – Ertugrul Gazi Mosque
Merv – Big & Small Kizkala
Merv – Erk Kala & Gayur Kala
Merv – Sultan Sanjar Mausoleum
Highlights
Skirting the border with Afghanistan, get glimpses of the other side, from the hair-raising Afghan-built ovrings (footbridges) to the exotic imports on display in Khorog's local bazaar.
Soaring along the renowned Pamir Highway is an unforgettable experience, especially in fine weather when the mighty peak of Muztag Ata rears its head.
Steeped in Silk Road history and immortalised in many great tales, the UNESCO-protected town of Khiva is as photogenic as it is legendary.
Witness the eternal flames of the Darvaza Crater, known as the 'Door to Hell', as you camp nearby – one of the strangest, most mesmerising geological oddities on earth.
Ashgabat rose from the devastation of an earthquake in 1948 and has enjoyed a surreal and futuristic makeover – witness its often bizarre, but certainly memorable architecture on a city tour.
| Day | Description | View All |
| --- | --- | --- |
| Day 1 | Bishkek | Details |
| Day 2 | Chychkan/Toktogul/Kok Bel | Details |
| Day 3 | Osh | Details |
| Day 4 | Sary Tash | Details |
| Day 5 | Kyrgyzstan/Tajikistan Border Crossing – Murgab | Details |
| Day 6 | Langar | Details |
| Day 7 | Ptup | Details |
| Day 8 | Khorog | Details |
| Day 9 | Khorog | Details |
| Day 10 | Kala-i Khum | Details |
| Day 11 | Dushanbe | Details |
| Day 12 | Dushanbe | Details |
| Day 13 | Penjikent | Details |
| Day 14 | Tajikistan/Uzbekistan Border Crossing – Samarkand | Details |
| Day 15 | Samarkand | Details |
| Day 16 | Tashkent | Details |
| Day 17 | Tashkent | Details |
| Day 18 | Khiva | Details |
| Day 19 | Khiva | Details |
| Day 20 | Konye-Urgench – Darvaza | Details |
| Day 21 | Yerbent – Ashgabat | Details |
| Day 22 | Ashgabat | Details |
| Day 23 | Mary | Details |
| Day 24 | Merv – Mary | Details |
| Day 25 | Ashgabat | Details |
| Day 26 | Ashgabat | Details |